This Weekend - March 17TH & 18TH
Casting Call
This Saturday and Sunday (March 17th & 18th), we'll be out taking photos of people at Jay Peak to be part of next year's advertising campaign.
You'll find our photographer moving all over the resort, taking photos of the skiers, snowboarders, cannonballers, climbers, gamers and staff that make this place the way it is. No prep required, just look for the signs and step in front of the camera. Plus, we're giving away a FREE SEASON PASS to one of our lucky participants.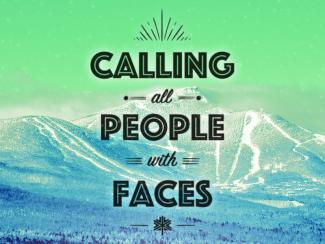 Saturday, March 17th
Saturday's schedule has us starting at the Jet Triple base first thing in the morning, then moving to the top of the Triple, and from there to where Montrealer intersects with the Northway and Angel's Wiggle to get some on mountain pics. We also plan to be at the Bullwheel for apres starting at about 4pm.
Sunday, March 18th
Sunday's plans will depend on what we're able to shoot Saturday. Assuming we get what we need on mountain we'll be in the waterpark pretty much all day. Otherwise we'll be back on mountain again. We'll update here and across social when we finalize plans.