Employee-Housing Continues
New Employee Housing Part of Ongoing Expansion of Worker Benefits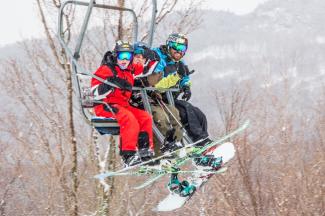 July 10, 2017 (Jay, VT)- Jay Peak's employee housing project continues on schedule. That was the word from resort officials today as crews continued work on a new 12-plex of mountain cottages located on the Stateside area of the resort. The addition of a dozen housing units means Jay Peak will now be able to provide lodging to approximately 64 additional employees who need a place to live. The resort is also continuing its work on the neighboring Inglenook Lodge, a Jay Peak-owned property located a mile from the resort entrance. That facility will be able to accommodate 78 employees once completed. Both projects are expected to be ready for the 2017-18 winter.
"The single most important thing we can be focused on here is attracting and retaining talented employees," said Steve Wright, Jay Peak's General Manager. "Offering up housing, for those that need it, is a major step in that direction."
Since beginning the revitalization project in 2008, the resort has gone from approximately 350 employees to well over a 1,400 during the high season. That rise has created a demand for affordable employee housing.
"Creating new, affordable housing is part of an over-arching team member compensation and benefit plan that we are completely overhauling here at the resort. Service needs to continue being a competitive advantage for us and the only way we can do that is by appropriately valuing our team and their needs," Wright continued.