Summer Edition
RELOCATION VACATION
With travel restrictions easing up a little, this promotion offers you the opportunity to relocate to our neck of the woods for an extended stay. And with many people still working remotely, you might finally have the time and ability to stay a little longer and get settled into mountain life for both work and play.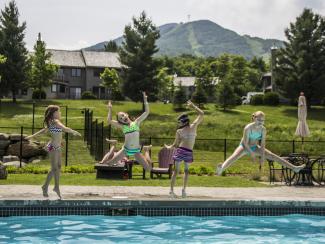 WORKING AND PLAYING REMOTELY AT ITS BEST
Your monthly rental will also include one season pass for the Jay Peak Championship Golf Course and a family pass to our in-ground, heated pool on Tramside (open weekends through July 4th and then daily from July 5th through Labor Day)
Pets are welcome in Golf & Mountain Cottages.
No need to leave any family members out. Pets are welcome but please be aware that your unit will be reviewed post departure and in the case of damages or pet related wear and tear, your check-in deposit will cover repairs. We know most pets owners are responsible and careful when renting, this is just an added precaution. Also, $250 deep cleaning fee will be added at the end of your stay. 
| | | |
| --- | --- | --- |
|   | 1st Month | Subsequent Months |
| Golf & Mountain 1-Bedroom Cottage | $1799 | $1650 |
| Golf & Mountain 2-Bedroom Cottage | $2125 | $1950 |
This is a little different than our usual vacation packages so here are some things to be aware of:
Monthly rental are available for any 30 day period beginning June 5th through October 31st, 2020.
When booking online, it's important to select exactly 30 days to see the correct rates.
You can only book for 1-month online. Should you require a longer length of stay, please call (800) 451-4449 to reserve.
Full payment for the month will be taken at the time of booking. Please see our Cancellation Policy HERE.
We are required to include rooms tax on the first month of rental, but it is not included on subsequent months.
No housekeeping service is provided on monthly rentals.
Max 4 people in a 1-bedroom cottage and max 6 people in a 2-bedroom cottage.
The current guidelines issued by the Governor permit lodging stays for Vermont residents only through June 15th. Out-of-state guests booking a lodging stay prior to June 15th will be required to sign a state issued form on arrival confirming that you have quarantined in Vermont for the mandatory 14 days. Please do not plan a visit to the resort prior to June 15th if you are not a Vermont resident or cannot confirm that you have completed the quarantine period.
If you are an out-of-state guest planning ahead and booking lodging after June 15th, if that deadline is extended by the Governor and affects your lodging dates, we will work with you to re-schedule your stay or refund you.
Lodging in a 1- or 2-bedroom Golf & Mountain Cottage
One season pass for the Jay Peak Championship Golf Course
A family pass for the in-ground, heated pool on Tramside (open weekends through June then daily July 5th through Labor Day. Access will be based on space available.)

For those working remotely (or those who just love streaming): high speed public WiFi with the option of hardwired access with a guest provided router for additional security.
Rates are subject to change without notice. Call (800) 451-4449 to reserve by phone.