Winter Edition
RELOCATION VACATION
Make Jay home this winter with our new Relocation Vacation, Winter Edition promotion. We have just ten 2-bedroom cottages available for a season-long winter rental (11/25/20 - 04/30/21). This promotion will also include 2020+21 Season Passes for up to 2 Adults and 2 Dependents. Read of for full details.
Update: we're down to 5 units available.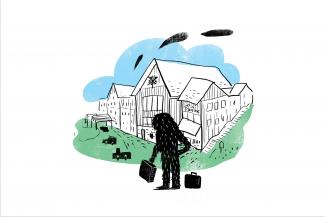 WINTER EDITION
This winter we'll be offering up ten 2-bedroom cottages for a season long rental. This promotion is a little different from our shorter term vacation so bear with us - these details are a little more involved than usual:
Your seasonal rental will begin Wednesday, November 25th, 2020 and run through May 2nd, 2021.
The cost of the seasonal rental is $15,000* including complimentary 2020+21 Season Passes for up 2 Adult and 2 Dependent (Junior or College) passes. The Season Passes are non-transferable and categories are not adjustable. 
Should your family or group need additional/different passes, we will honor the first tier rates for 2020+21 Season Passes.
The payment will be broken up into 5 installments that will be automatically charged to your credit card on the following dates:

1st: $3270, upon booking*
2nd: $3000 on January 1st, 2021
3rd: $3000 on February 1st, 2021
4th: $3000 on March 1st, 2021
5th: $3000 on April 1st, 2021

*We are required to include 9% rooms tax on the first installment but it is not included on subsequent payments.
A continuous $500 damage deposit will be held on your credit card. 
Your room keys will be reset at the beginning of each month. You'll simply need to check in at the Hotel Jay Front Desk on or after the first of each month to collect your new keys. 
Pets are welcome in the cottages but please be aware that your unit will be reviewed post departure and in the case of damages or pet related wear and tear, your check-in deposit will cover repairs. We know most pets owners are responsible and careful when renting, this is just an added precaution. Also, $250 deep cleaning fee will be added at the end of your stay.
No housekeeping service is provided on seasonal rentals.
Maximum occupancy is 6 people.
Cancellation Policy: Once the rental period begins on November 25th, 2020, there will be no refunds. Cancellations will only allowed if the State imposes travel or operating restrictions and then refunds will be pro-rated.
Call (800) 451-449 to Book
SEASON PASS BENEFITS
This promo includes up to four 2020+21 Season Passes (for up to 2 Adult and 2 Dependents). And there's more to a Jay Peak Season Pass than just access to the best skiing and riding in the Northeast including: 
New this season, we are partnering with Saddleback in Maine. You'll receive 2 unrestricted lift tickets to ski Saddleback anytime through the 2020+21 Ski/Ride Season.
15% off day access to the Pump House Indoor Waterpark.
10% off non-sale items in the ski/ride/gear shops.
20% off tune-ups in the Repair Shop.
10% off private lessons, non-holiday.
20% off single day adult group lesson, non-holiday.
Free access to the Nordic Ski & Snowshoe trails.