Access to the most snow in the East, for less.
Stay Longer, Save More
You're probably familiar with this winter deal - we do something similar most years.
Of the winter deals we've run so far, it is the broadest in terms of available properties and dates. The main detail is that you have to book a minimum 3-night stay to save 20% or book 5+ nights to save 30%. 
(Note: the photo above was taken on December 5th, 2018. It's how we like our winter season to start.)
MUST BOOK BY OCTOBER 2ND, 2019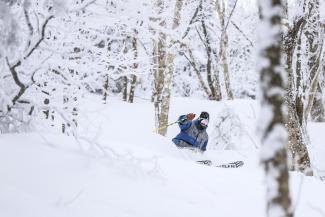 Packages are available from December 13th through May 2nd, 2020. Discounts are based on length of stay. From rates included here below are for a midweek stay for a family of 4 in a 1-bedroom cottage. Other properties and unit types are available and you can adjust the number of people to suite your group. MUST BOOK BY OCTOBER 2ND, 2019.
Canadian guests, book HERE.
Please note our RESERVATION POLICIES
FREE LIFT TICKETS AND WATERPARK ACCESS
With this package, you'll also get free day of arrival tickets for skiing/riding and/or the waterpark. The activities you get will be based on your original package.
Lodging
Lift tickets and/or access to the indoor waterpark, depending on which package you choose
Free waterpark access for kids 3 & under
Access to the Ice Haus Indoor Arena during Public Skate hours (based on availability)
Unlimited access to the Hotel Jay Fitness Center for Hotel Jay and Tram Haus Lodge guests.
Internet access
Shuttle service
Lift ticket and waterpark day passes are for consecutive days.
GET $200 IN VACATION EXTRAS AT CHECK IN
At check-in, you'll receive a coupon booklet with more than $200 in vacation extras including discounts at our restaurants and retail shops, special for the Clip & Reels indoor climbing gym and movie theatre, a free pass to the Nordic trails, and more.
Rates are subject to change without notice. Once availability hits a certain threshold, rates will increase. A family of 4 means 2 adults and 2 dependant children ages 4-14. Lodging is free for kids 14 and under (with parents on a paid package). Rates do not include tax or a $26+tx daily resort fee which will be added to your final bill at check out. Lift ticket and waterpark day passes are for consecutive days. Call (800) 451-4449 to reserve by phone.