Jay Peak in
Summer
A trip to Jay Peak in summer is just as exciting as it is in winter, plus you get to wear shorts. Enjoy outdoor activities like golf (traditional or disc), hiking, climbing, summer camps and more, or simply bask in the warm weather with good food and a cold drink. With all of our indoor activities, like the waterpark, hockey rink, and Rec Center, fully operational, you'd think we were always a fairweather resort.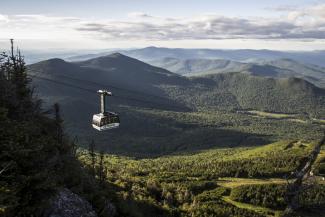 Clip & Climb 
If all of the waterpark sliding and ice skating wasn't enough to keep everyone entertained (and properly exhausted,) we now have a new addition to the activity list, the Clips and Reels. Located right across from the Stateside Hotel, Clips and Reels offers a 142-seat cinema draught house, an arcade that skews toward the virtual reality world, and a Clip 'n Climb facility that offers plenty of fun and challenging climbing elements.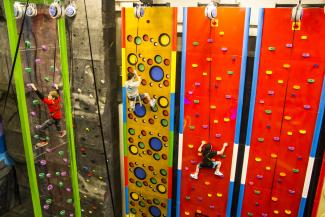 Indoor Waterpark
The Jay Peak Pump House indoor waterpark is a place for well-earned leisure. It's where you can experience the mountain from the comfort of your swim trunks. You can surf, climb, or float the Big River, or pull a few Gs on La Chute. With a roof that opens and closes, it's also a place where you can soak up the sun on clear days and find a paradise that's sheltered from the rain.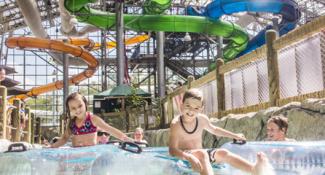 Jay Peak Championship golf course
At Jay Peak, the phrase "down to earth" means more than the friendly, casual attitude found in everyone who works at the course. It's actually about the earth. It's in the beautiful terrain, the natural waterways and the manicured greens. It's the Northern Vermont woods and the wildlife that watches from within. It's the little details and big ideas implemented by course designer Graham Cooke. At Jay Peak, your game is enhanced by all of this, whether you're a PGA pro or a first time hack.
Summer Events
When the sun goes down, we're just getting started. Live music, festivals, celebrations and weekly events are on the calendar all summer, for all ages.
With a 3,000-person capacity, the Stateside Amphitheatre is Jay Peak's largest venue for a dance-worthy acoustics. This summer, scoop up tickets to a number of outdoor concerts.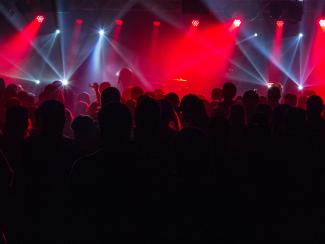 Raised Jay camps,
If there's one common trait that exists among all Raised Jay Summer campers, it's owning up to a fierce imagination.
The series of weeklong day camps cover the gamut, tapping into the creativity of childhood while prepping for the responsibilities of adulthood. Which is to say: nature hikes, soft and golf lessons, arts and crafts, Tram rides, survival skills and cooking sessions make regular appearances throughout each week.
A new perspective
Come get a good look at all of Vermont (and a little bit of Canada) from the top of Jay Peak. You can take Vermont's only aerial tram to get up there, but If you are feeling more adventurous, Hiking the mountain will give you a whole new perspective on getting to the top. We have hikes ranging from easy and family friendly to challenging but still family friendly.
Disc Golf
Built in the summer of 2017, we recently opened an 18-hole disc golf course at the Tram base. The design includes sweeping panoramic views, elevation change, wooded and open holes, water hazards and some interesting features that only Jay Peak can provide. 
Finding the perfect getaway
Whether you are looking for a condo located near (or in some cases practically on) our championship golf course, within walking distance of the Pump House Indoor Waterpark and Ice Haus Indoor Arena, or on the trails, we have many options to choose from.  Whether one of our full service Hotel suites, single family homes, full range of condominiums or townhouses, most of our lodging is within walking distance to the mountain and those few that are not, are located conveniently along our free Resort Shuttle Loop.
Not sure which property will suit you best?
Packages
Vacations don't happen in packages. They play out in tiny moments—shared laughs, powder turns and family meals that all add up to the bigger picture. Of course, while your trip may not be remembered as a package, having a Jay Peak booking package sure helps you ignore the planning side of things a little more, in order to focus on those little moments.
Deals
This is where you'll find them. The best deals. Whether it's a splash and stay, ski and stay, some event related lodging package, or some wonderful deal on lift tickets, Waterpark tickets or concerts in The Foeger Ballroom at Hotel Jay, this is where they'll be.