Pump House Indoor
WaterPark
The Jay Peak Pump House indoor waterpark is a place for well-earned leisure. A place to experience the mountain when the mountain may have beaten you momentarily. But it's also more than just a place to relax, it's a chance to catch a different thrill on the slides, shoot hoops and climb rocks in the activity pool, and test your skill on the Flowrider. Non-water activities include the 1851' Family Arcade, The Warming Shelter, the Wave Surf Shop and The Drink ensure every moment is saturated with satisfaction. It is the much deserved complement after a day of skiing, or vice-versa.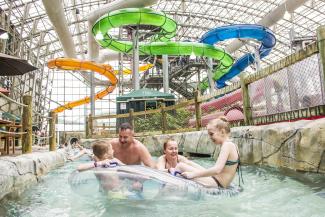 The Jay Peak Pump House indoor waterpark is a place for well-earned leisure. A place to experience the mountain when the mountain may have beaten you momentarily. A place where you can surf, climb, float the Big River like a boss or sit out a rough day.
Located off of Hotel Jay on Tramside.
Don't miss the boat
The only way to guarantee access (other than visiting on a lodging package) is to purchase in advance, online.
La Chute
French for, you'll scream your face off (or The Drop, whatever), La Chute stands an impressive 65' in the air (take or give) and actually protrudes from the building in a more than foreboding way.  Riders enter the tube, cross their arms and legs then wait for the countdown.  3.  2.  1.  45 miles per hour, a full 360 degree rotation and roughly  6 seconds later, they arrive at the bottom.  Forever changed.  You will be too.
Height and weight restriction: at least 48" tall and must be at least 88 lbs but not more than 290 lbs
Double Barrel Flowrider
A cross between skateboarding, surfing and snowboarding (minus the kneepads, sharks and snow), Flowriding has become all the rage thanks to the forgiving nature of what it takes to learn (you bounce on a surprisingly soft platform and not Reef coral).  Those with a modicum of athletic ability will be up and carving in no time.  Those without any?  Well, see La Chute above.  Or better yet, take a lesson.  Go here and learn more.
Height restriction: 42" tall to boogie board and 52" tall for stand-up surfing
Before you can use the Flowrider, please prep for your visit by completing our waiver form (must open with Google Chrome).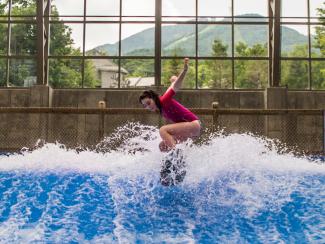 Big River
Named after the famous Johnny Cash tune (unless someone is looking for resulting royalties, then it was just our Marketing folks doing their thing), our Big River winds lazily around the border of the entire park.  We stop short of calling it a Lazy River not only because that seems sort of weak, but because it's anything but; lazy we mean.  With rapids around several turns, exploding depth charges and strong currents, a few laps on our River will leave you loving Big River when she calls (see annotated lyrics).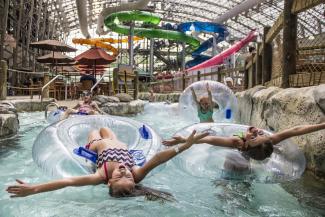 Mill Pond Kids Play Area
Our nod to the smallest within Raised Jay Nation, Mill Pond has a graduated entry point perfect for small, nervous feet, a wild play structure with requisite water cannons and thing a mabobs and a tipping sap bucket, that we only fill with hot syrup during late March when our Maple Trees are bursting.  Bring your pancakes.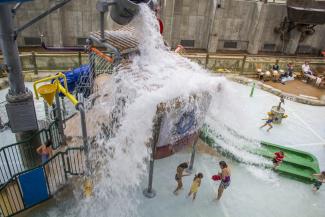 Indoor & Outdoor Hot Tubs
Tuned perfectly to between 100 and 104 degrees (it sounds hot-you're in Vermont), our indoor and outdoor tub each hold up to roughly 20 people (or holds 20 people, roughly- depending on your approach) and are the perfect spots for a post-powder soak or a pre-round sit.  A good place to strike up a conversation or pass the time with a pal, come winter head outside and watch the snow fall while you stay at eye level under the water-like a gator.  Remember, there will be bubbles.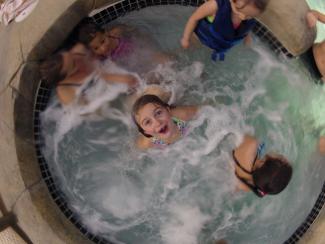 For safety reasons, the slide towers may be closed for a period of time if we experience thunder and lightning. Refunds will not be issued due to inclement weather resulting in a partial closure. Attractions will be reopened as soon as thunder and lightning passes from the area. 
Kids must be at least 48" to ride alone. Kids at least 42" tall can ride with an adult (on the blue and green tube slides).
Please note that guests are not permitted to bring any outside food or beverages into the Pump House Indoor Waterpark. The Drink and The Warming Shelter are both available on-site.
Please note that Jay Peak Move Up gift cards are only valid on property.
The Pump House operates during limited hours from September through mid-November. Guests arriving Monday-Thursday will not have access to the waterpark.