Race Training
Jay Peak Resort offers premium race training programs for groups looking for early season lane space, mid-season training or a simple club get together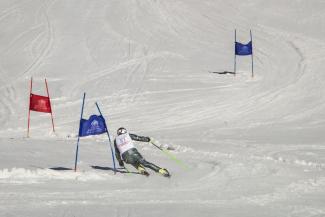 Our USSA homologated slalom hill with 3 lanes of training space is 140m vertical. Our giant slalom training space has up to 250m of vertical. We provide coaching, gates, timing, video analysis or just private lane space. Lane space is scheduled in 2 hour blocks both in the morning and afternoon. Safety netting is provided and gates can be rented if desired.
Jay Peak's abundant annual snowfall and state of the art snowmaking allow for consistent long vertical on some of the best race terrain in the region. Season starts in late November and we host just about every type of race team or club.
Lodging is provided right on site and groups can take advantage of discounted meals and activities.
Jay Peak's own Taylor Wunsch is both the head coach of the Jay Peak Ski Club and all Training programs at the resort. He is available to assist with planning, scheduling, and other specific needs. Taylor also provides coaching for those who want coaching, and he is on the hill daily to assure safe and productive training on the slopes.
Taylor grew up in Swanton, Vermont learning to ski at Jay Peak. Taylor had a successful ski racing career traveling the world racing. Taylor raced for the University of Vermont (UVM) all four years. During Taylor's time at UVM he was the EISA Points Leader in slalom in 2014, he earned 1st Team All American honors and was the top American in slalom at the NCAA championship his senior year. In the off season Taylor enjoys mountain biking and being out on the lake.