Jay Peak
Weddings
Your wedding venue should be special to everyone involved. Jay Peak offers a number of unique reception locations to accommodate guest lists ranging from 50 to 250 people. Choose a wedding venue that suits your style, with signature locations that make for the ultimate reception.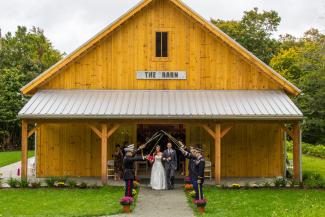 It's Not Too Late For a 2020 Wedding
Jay Peak Resort still has a number of dates and venues available for your 2020 wedding.
All venues are currently discounted 50%  for our upcoming summer/fall wedding season - Memorial Day weekend through the end of November.
Please reach out to our Wedding Sales Manager, Meg Harris-Loscomb, for more information and to schedule a tour.
We're looking forward to helping you plan your wedding event, no matter how big or small!
mloscomb@jaypeakresort.com
802-327-2181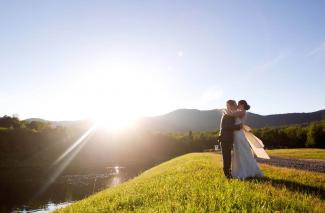 Ceremony sites
Whether you choose to be on top of the world at our Elevation 4000 summit with stunning views of the Green Mountains, or take in the serene view from the Garden Valley Pond the natural beauty makes a stunning backdrop for all your family photos. Perched on a knoll above the golf-course you can experience outstanding northeast valley views in The Clubhouse Barn with traditional post and beam construction and wide open side doors that offer a rustic feel for an almost outdoor ceremony.
This site is perfect for your romantic outdoor ceremony featuring a beautifully landscaped arbor overlooking the pond and the spectacular Green Mountains as your backdrop. Set with our White Garden Chairs.
Capacity: n/a
Rental Fee: $1,100
Enjoy a ride on Vermont's only aerial Tram to Jay Peak's summit. This is a true Vermont experience with breathtaking views for miles. Cost of Tram tickets is included.
Capacity: n/a
Rental Fee: $1,500
Adjacent to Alice's Table and Tower Bar, this space transitions easily from ceremony site to gathering area for cocktails and light snacks before the reception gets underway. Newlyweds and guests can also fill down time between the ceremony and reception with a Tram ride to the summit.
Capacity: n/a
Ceremony/reception rental fee: $1,000
Cocktail hour fee: $500
Our beautiful Clubhouse Barn sits right on the golf course with spectacular valley views for photos after your ceremony. Post and beam construction and wide open side doors offer a rustic feel for an almost outdoor ceremony. Available June through September.
Capacity: 180 seated
Rental fee: $1,400
RECEPTIONS
Jay Peak offers a number of unique reception locations to accommodate guest lists ranging from 50 to 250 people. Choose from our signature locations for the ultimate reception.
The Foeger Ballroom, located in Hotel Jay, is a contemporary ballroom that can transform with your decorating preferences and personal touch. This space is designed for larger groups but can be split into 3 smaller, but generously sized, rooms. Set with our Gold Chivari Chairs.
Capacity with dance floor: 250 people
Rental fee: $4,000
Named after one of Jay Peak's founding fathers, The Haynes Room is a brightly lit space attached to the Foeger Ballroom and is often times rented in addition to the ballroom for access to the outdoor terrace, a cocktail hour or ceremony location. It may be rented individually for smaller receptions, hosted brunch, or ceremony space. Its outside terrace boasts sweeping valley views of the Northeast Kingdom and neighboring Canada
Capacity with dance floor: 70 people
Rental fee for reception: $1,000
Rental fee for cocktail hour: $500
Located in the Austria Haus, the International Room is one of Jay Peak's most historic and cherished spaces. It offers beautiful white walls and rustic beams along its vaulted ceilings, chandeliers and alcove lanterns. This classic space may be decorated to suit your style or be set with our standard wedding tables and left to its own breathtaking charm. Set with our White Chivari Chairs.
Capacity with dance floor: 175 people
Rental fee: $3,400
With stunning white tulle-draped ceiling and a solid floor, this space is elegant, fresh and airy. The gardens surrounding this space are beautifully landscaped throughout the season. On chillier evenings, the sidewall windows and double wing glass doors can be closed to retain warmth. There is also a fire pit located just beside the tent. Set with our White Garden Chairs.
Capacity with dance floor: 140 people
Rental Fee: $3,400
Offered seasonally, Alice's Table hosts a seasonal BBQ buffet that includes a tram ride for your guests. Rehearsal dinners can also be planned for the Pump House Mezzanine or Courtyard, Clubhouse Grille and Hayne's Room. Ask your coordinator about menu options for this event.
Your guests always appreciate knowing where to find the bride and groom the morning after a wedding…. to say goodbye, best wishes and thank you. Take advantage of our delicious ever-changing brunch the morning after your wedding day. We offer menus as simple as a continental buffet or a sumptuous plated breakfast that can be held in a private setting or in one of our public restaurants. This is the perfect ending for your wedding. Ask your coordinator for details.
RATES & PACKAGES
As part of your once in a lifetime day, we offer a variety of menu packages for all budgets. Our incredible team brings years of experience and knowledge to your wedding day and will be there for you from start to finish. We will listen to what is important to you and help you make your dream wedding a reality.
With menu options ranging from $36-$70 per person, we can accommodate all wedding styles and budgets. 
You can expect the following amenities included in your wedding packages here at Jay Peak:
Complimentary menu tasting
Tables, chairs, linens, napkins, flatware, glassware and cutlery
Bar set up, bartending staff and servers
Dance floor
A one-on-one professional Event Planner to assist you from start to finish
Complimentary parking and on-site shuttles
Discounted lodging and activity packages for all your guests. Check out all our lodging options.
All packages include a complimentary stay for the bride and groom on their wedding night.
We also offer a variety of wedding packages and on-site bridal consultations at Taiga Spa. Here are details on all of our Bridal treatments
 
What else?
World class skiing and riding, our Nordic Center, an award winning Championship Golf Course, Vermont's only aerial Tram, Vermont's only indoor waterpark - The Pump House, our indoor skating arena - the Ice Haus, Taiga Spa, and soon a rec center including indoor climbing and an independant movie theatre. Everything you need to make yours the best wedding of the season.