Join Us At Jay
Employment
This is where we're supposed to give you a quick introduction about working at Jay Peak. Except there's nothing quick about what your experiences will be or what our expectations are.  In summary, we will expect you to work hard, to help fellow teammates, to service the guest and to have fun.  In return, we will pay you fairly, let you know that (and more importantly make you feel) valued, and, if you're so inclined, work with you to help create a career.  Still interested?  Keep reading.
 
Why Work At Jay Peak?
We're a team of good-natured folks at the heart and soul of a growing resort community. Our co-workers are our friends, so we happily go the extra mile for each other and our guests. We're rewarded fairly for our collective efforts and encouraged to pursue individual goals. We're a family, one that gets to choose its members. 
Come See Us
| When | Venue | Town | Time |
| --- | --- | --- | --- |
| Thursday, October 18th | East Side Restaurant | Newport | 4-7 PM |
| Thursday, November 1st | The Abbey | Sheldon | 4-7 PM |
| Thursday, November 8th | Hoagies Restaurant | Morrisville | 4-7 PM |
| Thursday, November 15th | 14th Star Brewery | St. Albans | 4-7 PM |
| Saturday, November 24th | Jay Peak Conference Ctr. | Jay Peak | 10 AM - 2 PM |
What to expect:
Learn what jobs are available. Take a look at our online job listing HERE

Find out how to apply

Enjoy light apps and good company with friendly faces looking to help
Our Vision 
We strive for an authentic, community driven Resort that derives its vitality from the on-mountain experience, respect for its history & what has come before it, and its employees whose energy and spirit are its foundation.
Get a job that gets results 
We take the notion of turning jobs into careers very seriously.  Working full time in the snowsports resort business can be the holy grail for some. We want those folks here and we'll work with you to get you where you want to be. It's not for everyone but we're not looking for everyone-we're looking for you.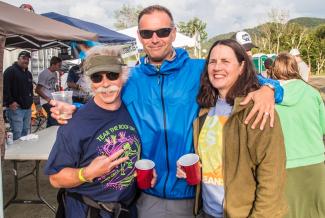 Seasonal Jobs
Whether you're simply taking a break from the big city, a high school or college student on break or you're just getting your feet into the workforce, we may just have a seasonal spot for you.  We expect the same drive, determination and focus we do of any of our team members and we'll reward you the same in return. And if you decide you like it so much you never want to leave, we can help there too.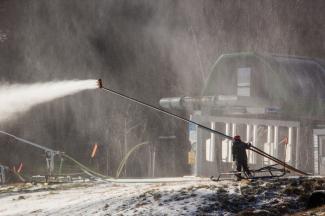 Where we've been 
At Jay Peak, we view ourselves, as do our guests, through multiple interpretations and filters. We have been offering skiers and riders the most snow in eastern North America for nearly 60 years. The Walter Foeger days of the 50's and 60's gave way to the Weyerhauser period in the 70's and then to the two decades of Mont Saint Sauveur Intl stewardship of the 80's through 2008.
Where we're headed
While we respect our history here at Jay Peak we spend as much time looking forward as we do back.  By the end of next summer, we'll have added our newest amenity-two state of the art synthetic turf recreational fields that will be home to both local teams and clubs as well as Field Hockey, Soccer and Lacrosse tournaments and camps from around the country.  In the past several years we've added everything from ice rinks and waterparks to multiple varieties of hotel and lodging options (most of it slopeside), new restaurants, Clips and Reels our new indoor climbing center, arcade and movie theater and plenty of small touches and big finishes to create the perfect vacation for you and your family.  
What makes us really go are the people that help deliver those perfect vacations-our staff and team-members. With a focused effort on the attraction and retention of great people-through the form of competitive compensation, reward programs, unparalleled benefit packages, employee housing and career paths for those so inclined, we're out to not only be the best employer in the State but to create an unparalleled employee experience in the hospitality industry.  Great employees delivering great experiences through state of the art amenities—all of it buried in the most snow in eastern North America. Everything is connected.
Benefits and privileges
Jay Peak Resort and Burke Mountain view their employees as their most valuable assets of the company. The Company strives to provide comprehensive benefits and resort privileges for all employees.
Housing
While at some resorts this can be difficult, we've gone out of our way to make it easier here.  We have space for nearly 200 employees in both our recently renovated Inglenook Lodge and our new on-campus Stateside Townhouse area. It's first come/first served, it's affordable and it will fill up quickly.  Get to stepping.
Transport
There's almost no limit to the lengths we'll go to get you here.  Our transportation team makes regular, daily and evening stops at several regional locations-that change seasonally.  Speak with a Jay Peak Human Resource Representative to get the latest details on pick ups, drop offs and where to look for our shuttle fleet.
Vermont life
Skiing and riding, skating, climbing, waterparking, golfing, hiking, and we haven't even left our campus yet.  In and around the Jay Peak region of Vermont you'll find everything from serious mountain biking and backcountry skiing to swimming holes, hiking trails and plenty of both nook and cranny for you to explore on your own or with a group.  We think it's the best of all possible worlds and we have a feeling you will too.