2021+22
Childcare
JayCare is located in the Austria Haus building on Tramside.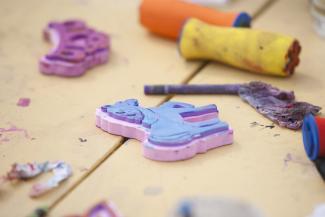 JAYCARE
RATES FOR LODGING GUESTS
| 2020 + 2021 | Full Day | Half Day |
| --- | --- | --- |
| Kids (6 weeks - 35 months)  | $125 | $80 |
| Kids (3-12 years) | $85 | $60 |
Please reference your lodging confirmation number when reserving daycare dates.  
Please call JayCare for details.
Date Night Care
| | |
| --- | --- |
| Who | Ages 6 weeks - 7 years – call for guidelines (802) 327-2104 |
| What | A fun place for the kids to play while adults have an evening away |
| Where | JayCare Austria Haus building on Tramside |
| When | Fridays & Saturdays from 6:00 PM- 10:00 PM |
| Details | $100 for the first child. $50 for each additional child (4 hours) |
PLEASE CALL TO RESERVE
Spaces are limited and fill quickly. (802) 327-2104.
Rates are subject to change without notice.

Meals not included. Parents can provide food (snacks or lunch) or lunch can be purchased for $12. 
CANCELLATION POLICY
Cancel at least 7 days in advance and you will get a full refund on deposit.

Cancel at least 48 hours in advance you'll get a 50% refund on deposit.

Cancel less than 48 hours in advance and the deposit is non-refundable (cancellation fees will be waived for cancellations due to guideline restrictions).
CHILDCARE
Updated August 19, 2021.
The State of Vermont has specific Childcare advisory information – please call Jay Peak Childcare for guidelines - (802) 327-2104
GUEST EXPERIENCE 
Advance reservations are required. Please visit jaypeakresort.com/Childcare for details. 
Childcare staff will greet you at the door to help guide you through our updated arrival process. 
Masks are required for all parents and children over the age of 2, when indoors (when developmentally appropriate). 
Parents and children will need to complete a health check upon arrival.  
Once registered, a Childcare team member will guide your child back to the classroom area.
Entry into the classroom areas will be limited to children & staff to better control health and sanitization within the center. No outside visitors, vendors, or parents will be allowed into secured classroom areas. 
CLEANING & SANITIZING PROTOCOL
Jay Peak Childcare is committed to providing a safe & healthy environment, keeping up to date with guidance from the Vermont Department of Health, CDD (VT Child Development Division) & the CDC. 
Transparent plastic shields have been installed around the registration desk for additional protection. 
Hand hygiene stations are available upon entry, frequent handwashing throughout the day for all children. 
Frequent cleaning of materials, toys, and classroom surfaces throughout the day & additional sanitization of the center before and after opening and closing daily. 
Contact Information
802-327-2104