Mountain
Safety
Jay Peak Resort allows skinning, snowshoeing, and hiking during operating hours on designated Uphill Travel Routes on open terrain. For the safety of everyone on the mountain, we ask that individuals participating in these activities adhere to the following guidelines.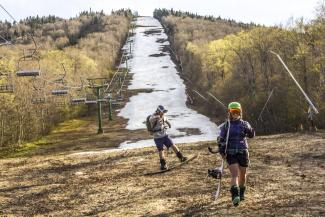 WINTER UPHILL TRAVEL POLICY
Late fall/ early winter pre- season and post-season travel to access ski trails is not recommended  due to unmarked and  unmitigated hazards, snowmaking, and grooming activities. There are no rescue services available at these times. We repeat: There are no rescue services available at these times.
Jay Peak Resort does not recommend the use of our trails during non- operational hours due to the use of winch and other snow grooming, snowmaking, snowmobile traffic, and other pre- operational activities. Winch cat operation happens daily and poses the threat of serious injury or death to persons who come into contact with the cable. The cable may be hard to detect as it can oscillate between being buried in the snow and being visible as load is applied to it by the groomer which can be up to 3000 feet away. Winch cat grooming is done EVERYWHERE on the mountain at one time or another except on the designated Uphill Travel Routes. There are no rescue services available during non- operational hours. 
Participants must first obtain a free Uphill Travel Pass and identifying arm band, valid for the season, from Customer Service, and sign an acknowledgement of risk agreement. Customer Service will also inform participants which trail is designated for uphill traffic.
The designated trail will have an Uphill Travel Route sign at the bottom and have trail markers delineating the recommended route.
Uphill travel recommended during operational hours (Weekdays 9:00am-4:00pm/Weekends 8:30am-4:00pm) on designated Uphill Travel Routes that have been opened for public use by the Ski Patrol.
The intent of participants should be to access open ski terrain as deemed by the Ski Patrol.
Participants are recommended to use good quality snowshoes or touring skis/ split boards with metal edges and brakes or restraint straps.
Participants shall travel to the side of the designated uphill travel trail and be visible at all times to downhill traffic.
For the animal's safety, dogs are not allowed on the ski trails.
Please use proper wilderness etiquette. Remove all waste and leave only tracks.
WAIVERS
Before traveling up the mountain, please prep for your visit by completing our waiver form (must open with Google Chrome).
JAY'S WOODS/GLADES 
Explore all of the glades within the Jay Peak boundary but make sure you have:
The required advanced skills.
A couple of partners.
Common sense.
Don't enter glades/woods after 3:00pm.
BACKCOUNTRY
Many people equate Jay Peak with tremendous backcountry and they're right; the backcountry that surrounds the ski area is some of the best you'll find. It's also potentially dangerous. Know before you go. Be smart. Note: when we talk backcountry we mean off property/outside the skiing and riding boundary. We usually refer to inbounds woods as glades or woods.
None of the backcountry terrain feeds back to the resort so plan to organize a ride to get back.
Watch for hazards. The woods are littered with rocks, stumps, fallen trees and other objects that can damage you and your equipment.
Ski and ride in groups of three. If someone gets hurt, you'll need one person to fetch help and the other to stay with the injured. Radios and a cell phone should both be carried.
No backcountry after noon (12:00pm). We don't ever sweep the backcountry. Getting lost sucks. Getting lost at night really sucks.
Have a meet-up plan. Pick a spot to reconvene if your group splits up. Not skiing in groups of three is dumb. Not having a meet up spot is extra-dumb.
Wear a helmet. We won't make you but the best (and smartest) already have them on.
Respect your ability level. If you're wondering whether or not you should attempt something, err on the side of "no".
Pay attention to the signs; they're there for you. Yes, you.
Be Prepared
For backcountry wilderness travel, to possibly get lost, wait for a rescue, and maybe even spend a night in the woods. At a minimum, carry (and know how to use):
Headlamp 
Map, GPS and Compass
Skins/touring skis or splitboard and/or snow shoes
Phone and/or radio
Food and water, enough to spend the night
Extra batteries, keep them warm
Extra layers
Tell someone where you intend to go and when you intend to return.  It's not a good idea to venture into unfamiliar terrain. Go with a guide, or someone who knows the area well. And, always ski with at least two competent partners. 
Know the Risk
We may not have a high risk of avalanche, but Jay Peak is home to some of the coldest, windiest, and most severe weather in the country. Even a minor injury in the backcountry can quickly turn fatal, as prolonged exposure to the elements can cause hypothermia, dehydration, and in the worst case, death. 
How much does a rescue cost?
The cost of a backcountry rescue is calculated based on the number of rescuers, fuel, supplies, and transportation costs, multiplied by the number of hours the rescue takes. The minimum price tag is much more than a season's pass (often upwards of $1000 for a short, 4 hour rescue).
Beyond Andre's Paradise and Beaver Pond = Danger
Andre's Paradise and Beaver Pond glades hold some of our favorite tree skiing and snowboarding on the hill. However, most people who cross the boundary line of these glades get lost. 
There is a double ridge-line at the boundary line.  Most think they are on their way back to the resort, but in fact are venturing further and further away into gully-filled flats (Black Falls) that will involve hours of strenuous hiking and traversing. If you don't know where you're going, you will put your life, your friends' lives, and your rescuers' lives at risk. Trust us; this is not as much fun as staying inbounds within of Andre's Paradise.
However, in the case of emergency – if you are lost or injured – Ski Patrol will rescue you.