Private Lessons
All Ages
There is nothing like the one-on-one attention of our private lessons. Get immediate feedback and personalized instruction from our best coaches. Those looking for a quick brush-up on intermediate or advanced skills may look to our 1-Hour Refresher, while our multi-hour privates are geared towards learning or honing skills.
Great for young children or if you know what you're doing but don't go too often, the 1-Hour Refresher is designed for you. We all know how quickly an hour passes on the hill - expect enough time for 1 to 3 runs with your coach. Add up to 2 additional people for $50 per person.
Meeting spot: Stateside Ski & Ride School Desk
Start times: 
11:00am, 12:00pm & 3:00pm & Walk-ups based on daily availability
Weekends & Holidays 8:00am
If you are ready to take your days on the mountain to the next level, the 2-Hour Private is where the progression starts. Add up to 5 additional people for $100 per person.
Start times: 9:00am, 1:00pm
The extra time allows the coach to understand you as a skier or rider and give personalized feedback while also having time to watch you progress and tweak the results. Add up to 5 additional people for $150 per person.
Start times: 9:00am, 1:00pm
Spend six hours immersed in exploring new terrain and progressing through the sport. Your coach and guide will teach you all you need to know to get to the next level or find the hidden gems of Jay. Add up to 5 additional people for $150 per person.
Start times: 8:00am (weekends and holidays only), 9:00am
Catch the early Tram up for some soul turns down from the top with our instructors. 
Do you want to be the first up the mountain in the morning? Do you want to experience fresh powder or untouched corduroy before the mountain opens? Of course you do. Grab your friends and family and join one of our Ski & Ride School Guides on the Tram that takes Ski Patrol up for their morning trail check. You'll hang out in the Sky Haus until Ski Patrol gives the all clear. From there, your guide will take you on a run through untouched early morning snow. Once at the bottom, you and your guide will have express access to the lifts until 10am. 
Meet your Guide at the information desk inside the Tram cafeteria at 8:15am weekdays or 7:45am weekends/holidays, ready to go with your gear and lift ticket.
For ages 18 and up or 13 to 17 accompanied by an adult.
Must be comfortable skiing/riding blue terrain
Up to 5 people per guide
Start time: 8:15am
Meeting spot: Info Desk at the Tramside Base Lodge
READY TO SIGN UP?
Lessons fill up fast, especially for holiday and weekend periods. It's best to make your reservation as soon as possible.
activities@jaypeakresort.com | (800) 451-4449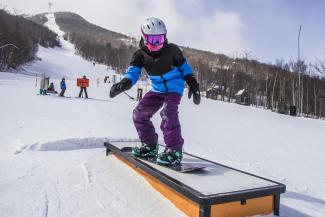 Rates are subject to change without notice and are inclusive of 6% Vermont tax unless stated otherwise.
Lift tickets are required for everyone taking a lesson and are not included in the lesson rates.