Explore the top of Vermont.
Tram ride
Come get a good look at all of Vermont (and a little bit of Canada) from the top of Jay Peak via our Aerial Tram.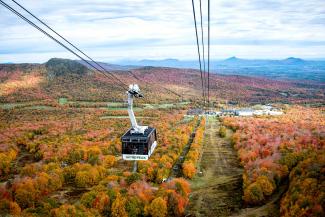 2020 Summer Tram Ride Rates
Jay Peak's Aerial Tram will operate weekends, September 5th - October 12th for fall rides. See below for full schedule.
GET YOUR TICKETS
PURCHASE IN ADVANCE ONLINE - Coming Soon
Or on resort at the Hotel Jay (or Provisions General Store when open).
* Rates are subject to change without notice.
Fall Tram Operations
UPDATED AUGUST 28TH, 2020.
These details relate to EverClean protocal for Fall Tram operations between September 5th and October 12th, 2020.
The State of Vermont has special rules and guidelines related to interstate travel.  Please click through to learn more. 
GUEST EXPERIENCE  
Trams are scheduled to depart on the half hour, more frequently as needed. 
The Tram line on the loading dock, will have physical distancing markings to allow 6 feet of space between family groups. 
Guests will have their temperature screened at the Tram dock. 
All passengers will be required to wear a mask to enter the dock and for the duration of the Tram ride.
Prior to entering the Tram cabin, all passengers will be required to use hand sanitizer (provided). 
Per state guidance, the Tram must operate with the windows open. 
The maximum number of guests will be limited to 15 people, less than current state recommended occupancy.
CLEANING & SANITIZING PROTOCOL 
All high-touch surfaces in the Tram docks, such as railing, doorknobs, and benches, will be cleaned and disinfected hourly. 
All high-touch surfaces in the Tram cabins, such as railings, poles and handles will be disinfected between trips.
Additionally, every hour the Tram cabins will be disinfected with an electrostatic sprayer.