Pump House Indoor
WaterPark
The Pump House Indoor Waterpark is OPEN and we have all of our normal features, except the activity river and hot tubs, running. Currently, we can only allow 75 people into the park at a time which on the one hand limits how many guests we can welcome but for those in the waterpark, it will be an unrivaled experience.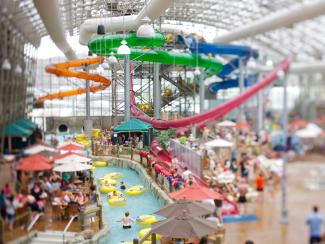 OPEN FRIDAY, SATURDAY, SUNDAY THROUGH THE FALL
Double Barrel Flowrider
A cross between skateboarding, surfing and snowboarding (minus the kneepads, sharks and snow), Flowriding has become all the rage thanks to the forgiving nature of what it takes to learn (you bounce on a surprisingly soft platform and not Reef coral).  Those with a modicum of athletic ability will be up and carving in no time.  Those without any?  Well, see La Chute above.  Or better yet, take a lesson.  Go here and learn more.
Height restriction: 42" tall to boogie board and 52" tall for stand-up surfing
Before you can use the Flowrider, please prep for your visit by completing our waiver form (must open with Google Chrome).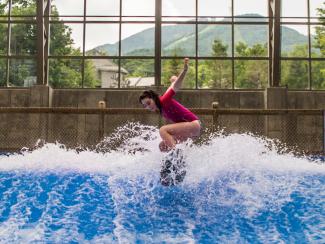 Mill Pond Kids Play Area
Our nod to the smallest within Raised Jay Nation, Mill Pond has a graduated entry point perfect for small, nervous feet, a wild play structure with requisite water cannons and thing a mabobs and a tipping sap bucket, that we only fill with hot syrup during late March when our Maple Trees are bursting.  Bring your pancakes.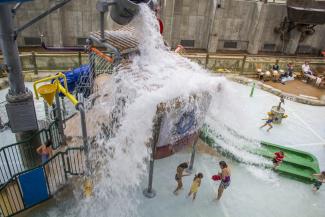 DEEP WATER ACTIVITY POOL
With features like a tall climbing wall and basketball area, the deep water activity pool is fun for all ages. The climbing wall attracts more adventurous souls, willing to test their strength and skill scaling the wall. No worries if you don't make it, though - you simply fall back into the pool to gather yourself before trying again. The basketball area has seen some competitive water basketball matches between friends and family, young and older.
ORANGE, BLUE, AND GREEN SLIDES
Test all three slides to figure out your favorite. Blue and Green slides use inner tubes which you can ride alone or with a friend and for braver souls, the Orange slide is a higher speed, solo endeavor. All three slides spend a few moments in a black out with thrilling twist and turns before you exit into the final deep water pool. 
LA CHUTE
French for, you'll scream your face off (or The Drop, whatever), La Chute stands an impressive 65' in the air (take or give) and actually protrudes from the building in a more than foreboding way.  Riders enter the tube, cross their arms and legs then wait for the countdown.  3.  2.  1.  45 miles per hour, a full 360 degree rotation and roughly  6 seconds later, they arrive at the bottom.  Forever changed.  You will be too.
Height and weight restriction: at least 48" tall and must be at least 88 lbs but not more than 290 lbs
RATES
DAY PASS RATES
| | |
| --- | --- |
| Ages 4+ | $40 |
| 3 & under | Free |
| Large Locker | $9 + $20 key deposit |
When you purchase into a block of time, and there is space in another block during the same day, you can access it for free. Here's how it works:
Access into the unpaid block of time is not guaranteed, it is based on space available. It will be first-come, first-served. And that means in person – we cannot hold space based on calls, emails or text.

Valid on 10a-2p and 3-7p time blocks

Stop in at the Pump House or call (802) 988-2710 to check if space is available as of 11a for the morning block and 4p for the evening block.

All guest will have to leave the Pump House, with all of their belongings, between 2p and 3p for cleaning.
PURCHASE IN ADVANCE TO GUARANTEE ACCESS
If we're not already sold out, day-of tickets can be purchased at The Wave. We are currently limited to a maximum of 75 guests in the waterpark.
CABANAS
Our Pump House Cabanas offer the perfect opportunity to get away from it all, while still being in the middle of it all. Five Cabanas are situated in various prime locations throughout the Pump House. These are the perfect spots to stage for a day of fun-with the family. Note: to adhere with current State guidelines and appropriate distancing, use will be limited to one family group per cabana. 
$100 per block
Rates are subject to change without notice and do not include 6% VT sales tax.
Call (800) 451-4449 to book.
For safety reasons, the slide towers may be closed for a period of time if we experience thunder and lightning. Refunds will not be issued due to inclement weather resulting in a partial closure. Attractions will be reopened as soon as thunder and lightning passes from the area. 
Kids must be at least 48" to ride alone. Kids at least 42" tall can ride with an adult (on the blue and green tube slides).
Please note that guests are not permitted to bring any outside food or beverages into the Pump House Indoor Waterpark.
Please note that Jay Peak Move Up gift cards are only valid on property.
THE DRINK
Table service available throughout the park or feel free to order directly from the bar in The Drink (on the mezzanine level).
MENU
HOT DOG - $4.50
McKenzie All Natural Frank with Crispy Fries.
HAMBURGER - $7
4oz Grilled Patty, served with Crispy Fries.
CHEESEBURGER - $7.50
4oz Grilled Patty with Melted Cheese, served with Crispy Fries.
CHICKEN SANDWICH - $8
Seared Chicken Breast with Lettuce and Tomato, served with Crispy Fries.
CHICKEN TENDERS - $6 Add Crispy Fries +$2
SIDE OF CRISPY FRIES - $3
CHEESE PIZZA - $11
Red Sauce, Special Cheese Blend, Italian Seasonings.
PEPPERONI - $12
Red Sauce, Special Cheese Blend, Pepperoni, Italian Seasonings.
SPECIALTY COCKTAILS - $10
MOUNTAIN MOMMA MARGARITA: Milagro Tequila, Cointreau, Fresh Lime Juice, Agave syrup
DOUBLE BARREL RUM RUNNER: Bacardi Rum, Malibu Coconut Rum, Orange Juice, Pineapple Juice, Bitters, Grenadine and a Cherry.
BLUEBERRY LEMONADE: Titos Vodka, Blueberry Simple Syrup, Lemonade and Fresh Blueberries
FROZEN PINA COLADA: Rum, Cream of Coconut, Pineapple Juice, Fresh Lime Juice