Jay Peak Expands Employee Benefits
Resort Continues Expansion of New Benefits Program to Include Cash and Other Incentives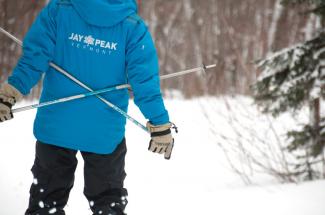 July 24, 2017 (Jay, VT)- Jay Peak Resort today announced additional benefits and perks to its ever-expanding list of incentives it's offering to employees. The latest offerings include a $500,000 revenue pool to be used for wage increases and bonus programs across all employee categories, and a new partnership with a local organic farm. The new additions are part of Jay Peak's continuing focus on attracting and retaining talent.
The resort began the initiative in June when it started construction of a new 12-plex of mountain cottages at its Stateside area that will be dedicated to housing employees who need it. Jay Peak is also renovating the neighboring Inglenook Lodge, a resort-owned property, to expand its lodging capacity to accommodate 78 team members. When both projects open for the winter season, the resort will be able to offer housing to close to 150 employees.
The newest perk offerings not only go to providing more competitive and enticing wages, but also provides healthy food choices. The resort has partnered with Berry Creek Farm, a local organic CSA in neighboring Westfield, to offer employees a monthly stipend to help offset a small portion of food costs. Beginning August 1, Jay Peak employees will have access to a monthly $20 fruit, vegetable and dairy credit to encourage healthy, local eating and, at the same time, support a long-time community partner.
"Having a happy and vibrant team where everyone feels valued is the greatest competitive advantage we can create as an organization because it translates into great guest experiences," said Jay Peak general manager Steve Wright. "Offering housing, financial and food benefits supports employees addressing their most basic needs."