Schlamm Jam
A seasonal celebration of community & spirit.
All Day
It means 'mud' in German and is being sponsored by the resort's Flake Foundation. But more importantly it means free skiing/riding, reveling in the spring sun and coming together after a long winter. Households from the following towns can register for up to four free lift tickets:
Albany

Bakersfield

Barton

Berkshire

Brownington

Derby

Derby Line

Enosburg

Fairfield 

Franklin

Glover

Irasburg

Jay

Lowell

Montgomery

Montgomery Center 

Newport Center

Newport City

North Troy

Orleans

Richford

Sheldon

St Albans

Troy

Westfield
You'll be asked to present a lease, mortgage document, utility bill, or driver's license showing an address from one of the towns when you pick-up your tickets.
YOU MUST REGISTER IN ADVANCE FOR YOUR FREE LIFT TICKETS
To register: CLICK HERE to reserve online using promo code 'SJ19' which you'll want to apply at check-out. Make sure to select the date (April 27th) so you reserve tickets on the correct day.
Lift tickets can be picked up at Stateside Customer Service day-of event. Remember to bring some form of documentation to validate your home address.
Show your local creds for these additional Schlamm Jam perks:
$10 ski & snowboard rentals at Stateside Rental Shop

$10 All-ages all day passes for the Pump House Indoor Waterpark. 

$5 Climbing passes at Clips & Reels Recreation Center (must reserve climb time in advance)
All deals and discounts are valid April 27th as part of the Schlamm Jam event.
As the day is being put on by the Flake Foundation, two dollars from purchased lift tickets as well as a portion of the proceeds from all resort sales on April 27th will be used to support both Jay and Montgomery Recreation Centers. Aside for the local discounts listed above, the day's events will include:
Our annual Tailgate Party, happening all day in the Stateside Parking Lot. 
FREE live music up at the Bullwheel Bar starting at 4:00 PM from Lazer Dad.
Silent Auction up at the Bullwheel Bar full of local products and services
Oh, and if that wasn't enough to get you excited, Virgin Hill Coffee will be onsite with their mobile coffee bar all-day at Stateside base. Coffee will be by donation-only, with all proceeds going to support Jay and Montgomery Recreation Centers.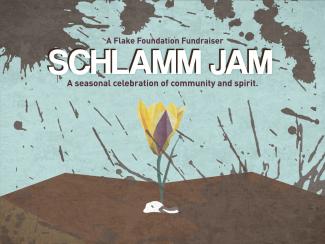 WHAT IS THE FLAKE FOUNDATION?
As the largest independent business and employer in the region, we have a responsibility to support local communities, the people that live within them, and the various causes and opportunities that help them to thrive. The Flake Foundation was put into place to recognize that responsibility and to create a platform of support.
In February the Flake Foundation provided a donation to Newport City Elementary School so the school could purchase neck warmers, goggles and gloves. It contributed funds last month to Newport Wireless Mesh, a non-profit community project dedicated to providing low-cost, community-supported mesh internet access to primarily low-income neighborhoods in downtown Newport. The money raised during Schlamm Jam this year will benefit both the Jay and Montgomery Recreation Centers.