Schlamm Jam
A seasonal celebration of community & spirit.
All Day
It means 'mud' in German and is being sponsored by the resort's Flake Foundation. But more importantly it means free skiing/riding, reveling in the spring sun and coming together after a long winter. Households from the following towns can register for up to four free lift tickets:
Albany

Bakersfield

Barton

Berkshire

Brownington

Derby

Derby Line

Enosburg

Fairfield 

Franklin

Glover

Irasburg

Jay

Lowell

Montgomery

Montgomery Center 

Newport Center

Newport City

North Troy

Orleans

Richford

Sheldon

St Albans

Troy

Westfield
You'll be asked to present a lease, mortgage document, utility bill, or driver's license showing an address from one of the towns when you pick-up your tickets.
YOU MUST REGISTER IN ADVANCE FOR YOUR FREE LIFT TICKETS
To register: please drop us a line at schlamm@jaypeakresort.com or call at 802-327-2596. We'll need to know your name (who will be picking up tickets day-of), home address, and how many family members we can expect.
Lift tickets can be picked up at the Bullwheel (Top floor of the Stateside Base Lodge) 
Show your local creds for these additional Schlamm Jam perks:
$10 ski & snowboard rentals at Stateside Rental Shop

$10 All-ages all day passes for the Pump House Indoor Waterpark. 

$5 Climbing passes at Clips & Reels Recreation Center (must reserve climb time in advance)
All deals and discounts are valid April 22nd as part of the Schlamm Jam event.
As the day is being put on by the Flake Foundation, two dollars from purchased lift tickets as well as a portion of the proceeds from all resort sales on April 22nd will be used to support a local family in need. Aside for the local discounts listed above, the day's events will include:
Local Food Vendors: 242 Texas BBQ, Miso Hungry, Caja Madera and Fire On The Mountain Pizza. 
FREE live music up at the Bullwheel Bar starting at 4:00 PM from local band, Binder. 
Silent Auction up at the Bullwheel Bar with over $7,000 worth of local products and services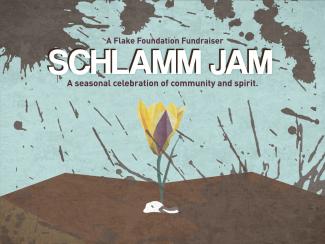 Silent Auction Items 
802 Wine & Spirits

6 Bottles

Burdick Chocolates

Box of Chocolates

Green Mountain National Golf Course

1 Round of Golf

Clips & Reels Climbing Gym | Arcade | Movie Theater

Clips & Reels Birthday Party

Clips & Reels Movie Theater

Private Theater Rental (Movie of Choice)

Illusive Minds Media

Photo Shoot Session (Family, Portraits, etc)

McLawn

Landscaping Gift Certificate

Miso Hungry - Authentic Japanese Ramen

Merchandise & Gift Cards
Jay Focus Group
Cow Plop Bingo Tickets

Jay Peak Resort Summer Music:

Pair of Concert Tickets o each of the following shows:

Darkstar Orchestra

Jeezum Crow Festival

Michael Franti & Spearhead

StrangeFolk Garden Of Eden Festival

Jay Peak Resort

2-Night Weekend Stay w/ Golf for 4 

Jay Peak Resort Gear Locker

Pair of Skis

Jay Peak Resort Gear Locker

Snowboard
Jay Peak Resort Gear Locker

Tubbs Mountaineer Snowshoes

Jay Village Inn
Gift Certificates

Osprey

Backpack
Pump House Indoor Waterpark

Pump House Birthday Party 

Piecasso
Gift Certificates

Raised Jay Summer Camp

2 Spots 

(space permitting)

Wayasees Farm

Maple Syrup
WHAT IS THE FLAKE FOUNDATION?
As the largest independent business and employer in the region, we have a responsibility to support local communities, the people that live within them, and the various causes and opportunities that help them to thrive. The Flake Foundation was put into place to recognize that responsibility and to create a platform of support.
In February the Flake Foundation provided a donation to Newport City Elementary School so the school could purchase neck warmers, goggles and gloves. It contributed funds last month to Newport Wireless Mesh, a non-profit community project dedicated to providing low-cost, community-supported mesh internet access to primarily low-income neighborhoods in downtown Newport. The money raised during Schlamm Jam will help a local family we're all standing behind.